On-chain data shows that Bitcoin's supply on exchanges continued to decline despite the crash and has now hit a multi-year low of 13.27%.
Percentage of bitcoin supply on exchanges falls to multi-year low
According to Glassnode's latest weekly report, the percentage of BTC supply on exchanges has now fallen to a multi-year low of around 13.27%.
"Percentage of supply on exchanges" is an indicator that measures the percentage of the total Bitcoin supply in circulation that is currently stored in exchange wallets.
When the value of this indicator increases, it means that the amount of coins held by the exchanges is increasing. This trend may be bearish for the price of crypto, as investors typically deposit their BTC on exchanges for the purpose of selling.
On the other hand, when the metric drops, it implies that holders withdraw their coins from exchanges, thereby reducing their reserve.
Such a trend can be bullish for Bitcoin because the offer on exchanges is usually seen as the sell offer, and a drop in it would mean that there is less selling pressure in the market.
Related Reading | Why Bitcoin Could Hit $90,000 By The End Of 2022, According To This Prediction
Now, here is a chart that shows the trend of BTC supply percentage on exchanges over the past year:
Looks like the value of the indicator has been on a downtrend for a while now | Source: The Glassnode Week Onchain - Week 5, 2022
As you can see in the chart above, Bitcoin's supply percentage on exchanges has now hit a multi-year low of 13.27%.
It looks like the indicator has continued its downward trend despite the crypto's tough price lately. Since the all-time high in November, the metric has declined by around 0.28%, with 42,900 BTC leaving the exchanges during the period.
Related Reading | This Bitcoin Volatility Index Pattern Suggests A Short Pressure Could Be Near
This trend was different from what happened after the May crash of last year. There, the exchange supply increased and held at high values ​​for some time until the price started to rise again.
The current reduction in the exchange supply shows that investors may be in a state of accumulation, which could be bullish for the price of Bitcoin in the long term.
BTC price
As of this writing, the price of Bitcoin is hovering around $38.5,000, up 6% in the past seven days. Over the past month, the crypto has lost 17% in value.
The chart below shows the price trend of BTC over the past five days.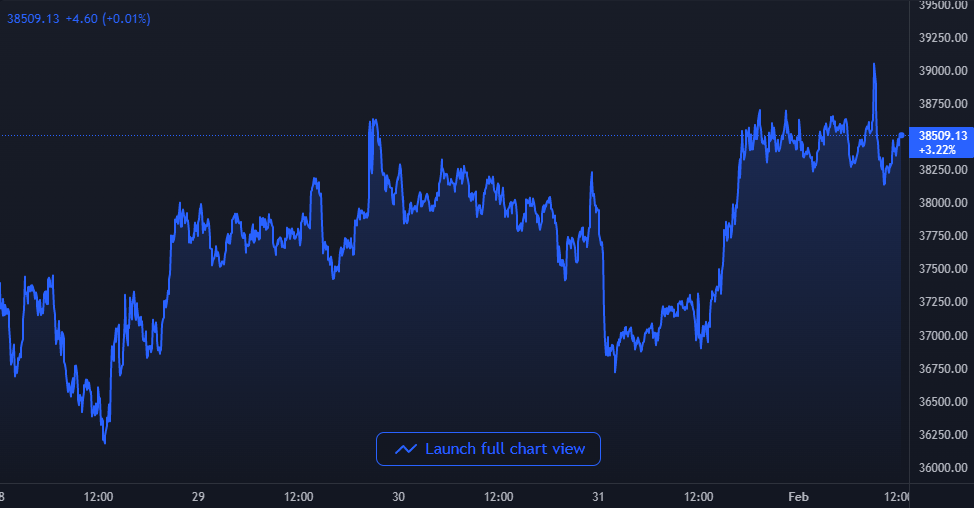 BTC's price seems to have held steady above the $38k price mark in the last few days | Source: BTCUSD on TradingView
Featured image from Unspash.com, charts from TradingView.com, Glassnode.com