FERC States of the Markets 2021: Battery Storage Nearly Matched Gas Capacity Additions
The Federal Energy Regulatory Commission recently released its 2021 State of the Markets Report. Overall, battery energy storage additions in 2021 nearly matched new natural gas capacity additions, according to the report.
Batteries were the fourth largest category behind gas, wind and solar (in ascending order). Some 3.1 GW of battery storage was added compared to just 0.5 GW during the same period last year.
Unsurprisingly, California ISO (CAISO) is leading the way with battery storage now accounting for 3.2% of its 70 GW generation capacity. It represented just under 60% of the 3.1 GW of new BESS capacity in 2021, or around 1.8 GW, although this figure contradicts CAISO's own figure of around 2.4 GW. ERCOT was the second largest with just under 20% of the total or around 600 MW.
The report adds that at CAISO, batteries currently serve only about 4% of the increased demand between 12:30 p.m. and 10:00 p.m. But like energy-storage.news wrote recently after interviewing CAISO, it's well over 10% in five minute intervals. This graph shows the average battery charging and discharging hours in 2021.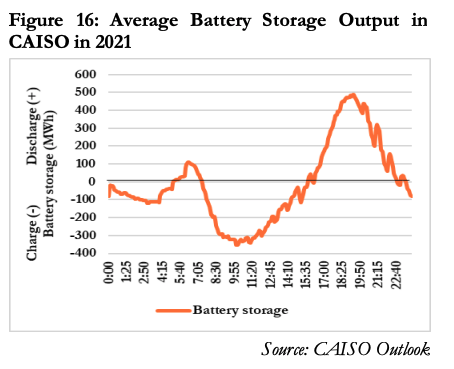 10MW BESS goes online in Germany
A 10 MW Battery Energy Storage System (BESS) in Germany, delivered by system integrator ECO STOR for Austrian electricity supplier Verbund is in operation.
The BESS facility in the city of Eisenach in Thuringia, central Germany, was commissioned in early April. ECO STOR said it is made up of three battery stations totaling 10 MW of power.
It will provide both grid-tied services and load transfer to accommodate the increase in wind and solar on the German grid. The press release states that flexible resource operators receive compensation from the grid operator due to the "significant contribution to the stability of the power grid".
This is the second BESS that Verbund has commissioned this year in Germany, one of the 20 international markets in which it operates. Earlier this year, it commissioned a 20 MW BESS at Breitenworbis near Eisenach.
The German BESS market is currently dominated by the residential, commercial and industrial sector, as Energy-Storage.news written recently. However, the utilities segment is recovering and has seen the recent entry of UK BESS project developers and investors like Anesco and Gore Street Capital.
Energy Vault begins construction of 100 MWh system in China
Gravity energy storage company Energy Vault has announced the start of construction of its 10 MWh EVx storage system, as previously planned by the company.
Energy Vault, Houston-based Atlas Renewable, and China Tianying are building the project next to a wind farm and national grid site in Rudong, Jiangsu Province, near Shanghai. It will help provide renewable energy to the State Grid Corporation of China (SGCC).
Its technology involves mechanically lifting and lowering large weights to release potential energy.
The press release claims this is the first large-scale gravity-based storage deployment between a US and Chinese company. Energy Vault and Atlas recently signed a $50 million license agreement for the use of the Swiss-American startup's proprietary gravity energy storage technology and the optimization software suite that powers it. accompanies the Chinese electricity market.
Energy Vault raised $235 million in a SPAC merger listing on the New York Stock Exchange (NYSE) in February, which listed the company at $1.1 billion.
The company says its technology is scalable and uses low-cost materials, although some sources have expressed skepticism about its reliance on moving parts and its ability to efficiently store and distribute energy as needed. .